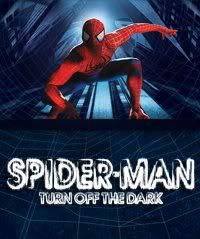 This thread is for pics, info, articles etc. from Reed's time in SPIDER-MAN Turn Off The Dark on Broadway.
Important links:
Official website:
http://spidermanonbroadway.marvel.com
Facebook Page:
http://www.facebook.com/TurnOffTheDark
Twitter Page:
https://twitter.com/...#!/spideyonbway
Tickets:
http://www.ticketmaster.com

Theatre:
http://www.foxwoodstheatre.com
Foxwoods Theatre
213 West 42nd Street
New York, New York 10036
Reed's First rehearsal date: 1-10-12
Reed's Put In Rehearsal: 1-27-12
Reed's Opening night: 1-31-12
Reed's Last show: 11-11-12
---
on 2-22-13 Reed tweeted he was re-joining Spider-Man
2-22-13 Tweet
Quote
thereedkelly <--- 2 weeks from today this guy will be back on Broadway swinging from skyscrapers as Spiderman. He has tights & is not afraid to use them.
3-7-13 1st Rehearsal
Quote
Tweet: @thereedkelly: Relearned my show of @SpideyOnBway today! So fun dancing on the vast Foxwoods stage again! Odd though, kept waiting for someone to yell cut!

3-9-13 Reed's first show since returning to Spidey
---
Reed's roles in SPIDER-MAN:
Swiss Miss, Debut Spider-Man, Puppeteer, Ensemble and Green Goblin Flight u/s